Books & Art
HIGHLY RECOMMENDED BOOKS
"The After Effects of Abortion"
(ISBN 978-0-473-13950)

This booklet is produced by P.A.T.H.S. and offers insights into the possible loss and trauma of abortion.

It provides information and stories about the experienced impacts of abortion and a healing journey.

It can be used by individuals who have experienced abortion to affirm and validate their experience, or by health professionals in their work with women and men who may have had a past abortion.

The booklet is able to be purchased from P.A.T.H.S. at $10.00 (inclusive GST) per copy, inclusive postage and packaging in NZ. Bulk orders may receive a discount.



Bookmarks


We also have P.A.T.H.S. bookmarks available - a handy way to have our contact details discreetly on hand. $1 per bookmark (inclusive GST) plus postage and packaging. Bulk orders may receive a discount.

To place an order
phone 0800 728 470 (NZ) or +64 3 379 7710
or email admin@postabortionpaths.org.nz





"Hope for the Hurting: Guideposts for Healing after an Abortion/Termination" (ISBN 978-0-473-38038-2)


A manual for counsellors, psychologists, therapists and pastors. This manual offers 14 Guideposts through a psychospiritual process for journeying with women towards healing after an abortion/termination. It uses a holistic person-centred approach. It is suitable for both professional and lay support to provide insights into the sensitivity and needs of women after such an experience. The programme can be adjusted to work with men, grandparents or other family members or anyone impacted by an abortion/termination. The process is also transferable to working with any perinatal loss or birth trauma, other grief or trauma such as life changes, bereavements, unemployment etc





The manual is available in PDF version $50NZ.





Q

ueries or orders may be made by emailing

carognad@gmail.com

Once order is received an invoice will be emailed or sent. Confirmation of order will be upon receipt of payment. Once payment received the copy of the manual ordered will be sent.


Copyright applies, but permission is given to copy handouts for client use.






"Hope Comes Healing Happens"

(ISBN 978-0-473-46314-4)

A workbook for women for healing after an abortion



The manual is available in PDF version $35NZ.





Q

ueries or orders may be made by emailing

carognad@gmail.com

Once order is received an invoice will be emailed or sent. Confirmation of order will be upon receipt of payment. Once payment received the copy of the workbook ordered will be sent.







"A New Tomorrow: Workbook for men affected by abortion"

(ISBN 978-0-473-47143-9)

Men's experiences are even more under-acknowledged than women's experiences. This workbook focuses on men's experiences, possible effects for men, and offers exercises to reflect on that experience.





The manual is available in PDF version $35NZ.





Q

ueries or orders may be made by emailing

carognad@gmail.com

Once order is received an invoice will be emailed or sent. Confirmation of order will be upon receipt of payment. Once payment received the copy of the workbook ordered will be sent.





"Guidelines for a Post Abortion / Termination Therapeutic Support Group" (ISBN 978-0-473-27267-8)
Gnad, Carolina (Dawnings Christchurch 2014)


Therapeutic Support Groups can be a good place to share painful personal experiences.

These guidelines will help you set up and facilitate a therapeutic support group for those who have experienced a pregnancy termination.

It offers insights into the needs of participants, how to set up and run group safely.
PDF version is $50NZ. (Copyright applies. Includes permission however to copy handout material for group participants). Each location or site for a support group needs its ownn booklet.

Queries or orders to Carolina at carognad@gmail.com






"A New Path; My Story - My Healing Journey" (ISBN 978-0-473-28214-1)
Gnad, Carolina (Dawnings Christchurch 2014)


This workbook for participants accompanies the Post Abortion / Termination Therapeutic Support Group programme outlined in the booklet above.

It provides information and space to reflect and explore aspects of the programme as participants journey through.

Leaders can purchase copies for participants or participants may be invited to purchase their own copy. For some people having their own workbook is helpful.

PDF version is $25NZ. (Not to be copied)

For groups who anticipate ongoing groups a one off fee of $50NZ for PDF version of the workbook includes permission to copy for groups at a single location or site.

Queries or orders to Carolina at carognad@gmail.com






"Abortion Recovery Facilitator Guidebook - 10 Step Recovery Program - Facilitating Recovery, Emotional Healing and Spiritual Reconciliation from negative effects of abortion."
Victims of Choice, Inc. (Naperville, USA. Revised 1996).

N.B. Victims of Choice has now folded. Copies of this manual are available through P.A.T.H.S., if and when someone has completed the P.A.T.H.S. Seminar.


"Giving Sorrow Words"
Tankard-Reist, Melinda (Duffy & Snellgrove, 2000)

This is a collection of women's abortion stories in Australia.



"Forbidden Grief - The Unspoken Pain of Abortion"
Theresa Burke, Ph.D., with David Reardon, Ph.D. (Acorn Books 2002)


"Once a woman is pregnant
the choice is not simply between
having a baby and
not having a baby.
The choice is between
having a baby and
having the experience of abortion.
Both are life changing experiences.
Both have significant
psychological consequences,
either contributing to or hindering
a persons' mental health"
- Theresa Burke




It is time to move beyond the politics of abortion and address the emotional needs of those who struggle with feelings of grief, shame, guilt, feeling or fearing beingjudged by others - and more. Social taboos stifle discussion of abortion-related feelings.
Forbidden Grief is a compelling and haunting review of Dr Theresa Burke's experience in counselling hundreds of women after their abortions.
Dr Burke exposes obstacles in the way of post-abortion healing, reviews the full range and depth of post-abortion adjustment problems, and illustrates how we can create a more understanding and healing society where women will no longer be required to hide their pain.



"The Jericho Plan"
Reardon, David (Loyolla University Press, Chicago, IL)

This book is particularly good for clergy. It provides information around impacts of abortion and ideas around how to approach the issue with people and congregations in a sensitive and helpful way.





---
OTHER BOOKS OF INTEREST

My Unknown Child
Riols, Boreen (Multnomah Publishers, 1999)

Real Choices
Frederica Mathewes-Green

Abortion and Healing, A Cry to Be Whole
Mannion, Michael (Sheed & Ward, Kansas City, MO)

Beyond Choice: The Abortion Story No One Is Telling
Baker, Don (Multnomah Press, Portland, OR)

Deeply Damaged... (Links between aborting babies and abusing children)
Ney, Philip M.D. (Pioneer Publishing, Victoria, Canada)

Men and Abortion
Schostak, Arthur, McClouth, Gary (Praeger Publishers, New York)

Men and Abortion - A Path to Healing
by C.T. Coyle, Ph.D. Life Cycle Books, Canada 1999

Post Abortion Syndrome: Its Wider Ramifications
Ed. by Docherty, Peter (Cambridge University Press, Cambridge, UK)

Psycho-Social Stress Following Abortion
Speckhard, Anne PhD (Seed & Ward, Kansas City, MO)

The Hand of God
Nathanson, Bernard (Regency Publishing, Inc, Washington DC)

In Necessity and Sorrow
Denes, Magda (Basic Books, New York)

The Ambivalence of Abortion
Francke, Linda (Random House, New York)



---
ART
Jericho Plan Cover Art Now Available
Artist Offers Museum Quality Reproductions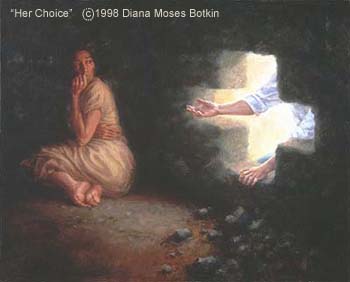 Many people have inquired over the years about ordering prints of the beautiful oil painting that is reproduced on the cover of The Jericho Plan. We are pleased to report that Diana Moses Botkin, the artist who created the painting, is making the prints available. She writes:

"I have an encouraging announcement for all of you who have patiently waited for the opportunity to purchase prints of 'Her Choice'. "The giclée* reproductions of 'Her Choice' are available in two modest sizes at the site, with options for printing on paper or on canvas. Prints on paper start at less than $US25. Reproductions on museum wrap canvas (on stretchers) start at just over $US140. As the artist, I think the image looks best on canvas, as this gives an appearance close to the original oil painting. You can now order reproductions at my online print gallery."

The link can be found at http://DianaMosesBotkin.imagekind.com/lifeimages. If you are interested in ordering a print, please email Diana at mosesbotkin@hotmail.com.



* giclée (zhe-clay) A giclée print is a high quality museum grade reproduction which provides better color accuracy than any other printing method. Images are created using high resolution professional digital scans of originals, and premium inks are sprayed on a variety of substrates (art papers or canvas). The resulting image has a continuous tone with no noticeable dot pattern.