Research and Articles
Effects of Previous Termination Experience on Subsequent Pregnancies and the Role of The Midwife
By Carolina Gnad
As presented at the NZCOM Conference, Hamilton, September 2014
View the PDF of this presentation
Reasons Why Women Have Abortions
By Carolina Gnad
Article looking at reasons for abortion and factors that increase risk for negative reactions
Effects of Abortion
By Carolina Gnad
Article looking at physical complications, psychological effects, possible spiritual sequelae and associated problems
Post Abortion Grief Checklist
By Carolina Gnad
A checklist to help see if you may be be experiencing grief after a recent or past abortion.

---
P.A.T.H.S. Research Project - Literature Review
Impact of Past Abortion on Subsequent Pregnancy, Birth and Post Partum Experiences. Evidence to date.
P.A.T.H.S. undertook a Literature Review in 2010 which we hope will be of interest and stimulate discussion particularly in the professional health and welfare sector.
In the course of our work, and that of others around the country, working in the post abortion area, we have noticed various recurring issues. For example, we've heard about and wonder about: women with a past abortion who then suffer a miscarriage; concerns and issues around fertility following an abortion; anxiety in subsequent pregnancy and around birthing; difficulties and issues with attachment and parenting with subsequent children; and, the possible correlation between and incidence of post natal depression (PND) in women with a past abortion. From this we became curious and are looking to see what evidence there is to date in the research and literature.
We also want to highlight the difficulties with and limits of research in the post abortion area and identify where there may be gaps.
This was a new endeavour for us. Jayne Gormley, Colleen Carr, Henrietta Trip and Carolina Gnad were the team willing to engage in the project and trawl through material.
I was so scared with my next pregnancy that there would be something wrong with the baby, or I would lose it. - Sandy
My past abortion wasn't an issue until I was married and got pregnant again. - Sue
My main concern after my abortion was if I would be able to have more children. - Rebeccah
At the birth of our second baby, I was really anxious about the pain and memories it would trigger. - Pat
PHYSICAL COMPLICATIONS:



Surgical abortion carries similar risks associated with other surgical procedures(1).

Research is divided on the association between induced abortion and subsequent preterm delivery(2), low birth weight(3, 4, 5, 6, 7), spontaneous abortion(1, 8) and /or secondary infertility(7, 9, 10).

Multiple prior spontaneous or induced abortions are more likely to be associated with more intense vaginal bleeding during pregnancy(11). And, associations between abortion & placental complications in subsequent pregnancy are not clear(12).



PSYCHOSPIRITUAL IMPACTS:



Clinically significant mental disorders [associated with an abortion or TOP] are distinguishable from other reactions or negative emotions; "...feelings of regret, sadness or dysphoria [in and of themselves] do not constitute psychopathology."(14, p 869 )

The research suggests that induced abortion may be linked to post traumatic stress disorder(15, 16, 14, 17), and anxiety and depression in subsequent pregnancy(13, 14, 15, 18, 17).
NB. There was a marked absence of spiritual implications of abortion in the literature reviewed.
SOCIAL RELATIONAL EFFECTS:



Post abortion emotional or mental health problems can impact relationships in various ways e.g. communication, emotional engagement, blame(15,19,20).

Pregnancies 5-6 months after a pregnancy loss can worsen trauma and cause inappropriate grief, and may negatively affect emotional attachment(18).

Poor bonding following abortion appears to increase the risk of child abuse/neglect(18).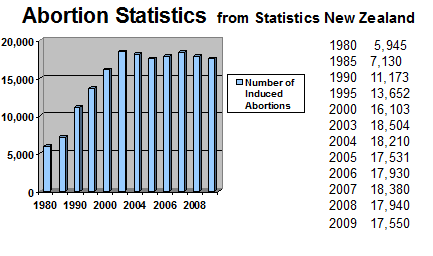 Year ended December 2009
17,550 abortions and the median age was 24 years
Highest abortion rate for women aged 20-24 years (37 abortions per 1,000)
63.3% were first abortions, 25% were second abortions and
11.5% of women had two or more prior abortions
NB This trend was steady over the last five years
Fetal death, repeated spontaneous abortion, preterm deliveries and early neonatal deaths

represent abrupt interruptions of personal and family adaptations to pregnancy.....

These events can generate anxiety during future pregnancies and affect the parents' quality of life. (13,p187)
Some Strategies for Midwives (Health Practitioners) Caring for Pregnant Woman With Past Abortion
Specifically inquire after a prior abortion or TOP during the intake process and assess implications for the current pregnancy.

If a woman discloses a prior abortion or TOP be aware of potential issues e.g. anxiety(13): fear of damage to reproductive system(12) or of a problem pregnancy, higher than normal anxiety around birth, depression(18) during pregnancy or after the birth, difficulties with bonding or attachment during pregnancy or with the newborn(18).

Be comfortable to engage in conversation around the past abortion - the situation, her feelings or beliefs around the decision, going through the procedure at the time, changes in her and her life since then. Women have found reflection on previous abortions promoted closure(25). Be aware of own limitations and refer for appropriate counselling help if needed
Factors Influencing Midwives' (Health Practitioners') Attitudes or Approach to pregnancy or pregnant women with a past abortion or TOP

(22, 23, 24)
Professional ethics and practice guidelines.

Clinical management issues.

Individual or professional socio-cultural factors, may include bias, values, conflicts - moral, cultural, religious.

Institutional policies, protocols and procedures.

Effect on midwives regarding their role in abortion services, TOPs, and fetal or neonatal death.

Supervision, support and ongoing professional development, or lack of.

Personal and professional coping strategies.

Own pregnancy and pregnancy-baby loss experiences.
Opportunities for further research
• Experience of subsequent pregnancy around decision making, relationships, emotions, expectations, recurrence of memories or trauma.
• Anxiety during subsequent pregnancy and impact on birth experience.
• Attachment during subsequent pregnancy and bonding after birth.
• Incidence of postnatal depression (PND) in pregnancy and association with a past abortion.
• Concerns or issues for midwives (or other health practitioners) caring for pregnant women with a past abortion and their families.
References for Literary Review Poster Material:
Zhou, W., Olsen, J., Nielsen, G. L. & Sabroe, S. (2000). Risk of Spontaneous Abortion following induced abortion is only increased with short interpregnancy interval. Journal of Obstetrics and Gynaecology, 20 (1), 49-54
www.abortion.gen.nz/information/history.html
Che, Y., Zhou, W., Gao, E., & Olsen, J. (2001). Induced abortion and prematurity in a subsequent pregnancy: a study from Shanghai. Journal of Obstetrics and Gynaecology, 21 (3), 269-273
Mirmilsten, V., Rowlands, S., & King, J. F. (2009). Outcomes for subsequent pregnancy in women who have undergone misoprostol mid-trimester termination of pregnancy. Australian and New Zealand Journal of Obstetrics and Gynaecology, 49, 195-197
Moreau, C., Kaminski, M., Ancel, P. Y., Bouyer, J, E., Escande, B., Thiriez, G., Boulot, P., Fresson, J., Arnaud, C., Subtil, D., Marpeau, L., Roze, J. C., Maillard, F., & Larroque, B. (2005). Previous induced abortions and the risk of very preterm delivery: Results of the EPIPAGE study. BJOG: An International Journal o Obstetrics and Gynaecology, 112, 430-437
Parazzni, F., Cipirani, S., Chiaffarino, F., & Sandretti, F., Bortolus, R., & Chiantera, V. (2007). Induced abortion and risk of small-for-gestational age birth. BJOG: An International Journal o Obstetrics and Gynaecology, 114 (11), 1414-1418
Tan, T-C., Chang, A. M. Z., & Rogers, M. S. (1990). Birth weight to Chinese women subsequent to a previous abortion. Australian and New Zealand Jounnal of Obstetrics and
Gynaecology, 30 (3), 217
Gan, C., Zou, Y., Wu, S., Li, Y., & Liu, Q. (2008). The influence of medical abortion compared with surgical abortion on subsequent pregnancy outcome. International Journalof Gynaecology and Obstetrics, 101, 231-238; Trichopoulos, D., Handanos, N., Danezis, J., Kalandidi, A., & Kalapothaki, V. (2005). Induced abortion and seconday infertility. BJOG: An International Journal o Obstetrics and Gynaecology, 83 (8), 645-650
Frank, P., McNamee, R., Hannaford, P. C., & Kay, C. F. (2005). The effects of induced abortion on sebsequent fertility. BJOG: An International Journal o Obstetrics and Gynaecology, 100 (6), 575-580
Yang, J., Savitz, D. A., Dole, N., Hartmann, K. E., Herring, A. H., Olshan, A. F., & Thorp, J. M. Jr. (2005). Predictors of vaginal bleeding during the first two trimesters of pregnancy. Pediatric and Perinatal Epidemiology, 19 (4), 276-283
Zhou, W., Neilsen, G. L., Larsen, H., & Olsen, J. (2002). Induced abortion and complications in the subseqent pregnancy. Acta Obstetricia et Gynecologica Scandinavica, 80 (12), 1115-1120
Couto, E. R., Couto, E., Vian, B., Gregorio, Z., Nomura, M., Zaccaria, R., & Junio, R. P. (2009). Quality of life, depression and anxiety among pregnant women with previous adverse pregnancy outcomes. Sao Paulo Medical Journal, 12 (4), 185-189
Major, B., Applebaum, M., Beckman, L., Dutton, M. A., Russo, N. F., & West, C. (2009). Abortion and Mental Health: Evaulating the Evidence. American Psychologist, 64 (9), 863-890
Coleman, P. K., Rue, V., M., & Spence, M. (2007). Intrapersonal processes and post-abortion relationshipchallenges: A review and consolidation of relevant literature. International Journal of Mental Health, 4 (2)
Kersting, A., Kroker, K., Steinhard, J., Hoering-Franz, I., Wesselmann, U., Luedorff, K., Ohrmann, P., Arolt, V., & Suslow, T. (2009). Psychological impact on women after second and third trimester termination of pregnancy due to fetal anomalies versus women after preterm birth: A 14 month follow up study. Achives of Women's Mental Health,12 (4), 193-20117
Steinberg, J. R., & Russo, N. F. (2008). Abortion and Anxiety? What's the Relationship. Social Science and Medicine, 67 (2), 238-252
Ney, P. G., Fung, T., Wickett, A. R., & Beaman-Dodd, C. (1994). The effects of pregnancy loss on women's health. Social Science and Medicine, 38 (9), 1193-1200
Alex, L., & Hammarstrom, A. (2004). Women's experiences in connection with induced abortion - a feminists perspective. Scandinavian Journal of Caring Science, 18, 160-168
Coleman, P. K., Coyle, C. T., Shuping, M., & Rue, V. M. (2009). Induced abortion and anxiety, mood, and substance abuse disorders: Isolating the effects of abortion in the national comorbidity survey. Journal of Psychiatric Research, 43 (8), 770-776
Robinson, G. E. (2008). Is there an "Abortion Trauma Syndrome"? Critiquing the evidence. Harvard Review of Psychiatry, 17 (4), 268-290
Garel, M., Etienne, E., Blondel, B., & Dommergues, M. (2007). French midwices' practice of termination of pregnancy for fetal abnormality. At what psychological and ethical cost? Prenatal Diagnosis, 27 (7), 622-628
Jones, R. K., & Kost, K. (2007). Underreporting of induced and spontaneous abortion in United States: An analysis of the 2002 National Survey of family growth. Studies in Family Planning, 38 (3), 187-197
Kane, R. (2009). Conscientious objection to termination of pregnancy: The competing rights of patients and nurses. Journal of Nursing Management, 17, 907-912
Trybulski, J. (2005). Women and abortion: The past reaches into the present. Issues and Innovations in Nursing Practice, 54 (6), 683-690
Copyright @ P.A.T.H.S. 2010




---
ABORTION and ANXIETY: What's the relationship?
Steinberg JR, Russo NF.
Source:

Department of Psychology, Arizona State University, Tempe, AZ 85287-1104, United States. steinberg.julia@gmail.com
Abstract: Using data from the United States National Survey of Family Growth (NSFG) and the National Comorbidity Survey (NCS), we conducted secondary data analyses to examine the relationship of abortion, including multiple abortions, to anxiety after first pregnancy outcome in two studies. First, when analyzing the NSFG, we found that pre-pregnancy anxiety symptoms, rape history, age at first pregnancy outcome (abortion vs. delivery), race, marital status, income, education, subsequent abortions, and subsequent deliveries accounted for a significant association initially found between first pregnancy outcome and experiencing subsequent anxiety symptoms. We then tested the relationship of abortion to clinically diagnosed generalized anxiety disorder (GAD), post-traumatic stress disorder (PTSD), and social anxiety disorder, using NCS data. Contrary to findings from our analyses of the NSFG, in the NCS analyses we did not find a significant relationship between first pregnancy outcome and subsequent rates of GAD, social anxiety, or PTSD. However, multiple abortions were found to be associated with much higher rates of PTSD and social anxiety; this relationship was largely explained by pre-pregnancy mental health disorders and their association with higher rates of violence. Researchers and clinicians need to learn more about the relations of violence exposure, mental health, and pregnancy outcome to avoid attributing poor mental health solely to pregnancy outcomes.
Link http://www.ncbi.nlm.nih.gov/pubmed/18468755

---
SYNOPSIS OF RECENT POST-ABORTION RESEARCH
(by Vincent M. Rue, Ph.D. Institute for Pregnancy Loss, Stratham, New Hampshire)
Extensive research has documented how traumatic stress can significantly alter individuals' lives. Traumatic stressors are strong predictors of post-traumatic stress disorder or PTSD (Foy, Osato, Houskempt & Neuman 1992).
While the prevalence of PTSD has been estimated to affect up to 12% of the U.S. population (Breslau, Davis, Andreski & Peterson 1991), limited research has examined the role of elective abortion as a traumatic stressor causing symptoms of PTSD. Most trauma victims encounter feelings of horror or terror at the time of the traumatic episode. Bagarozzi has reported that women who came for mental health treatment were in complete denial that they had experienced an abortion and that indeed it was a traumatic and horrific experience for them. "This denial was seen as a major contributing factor to the development of post traumatic stress in these women" (1993:67).
Clinical research findings highlighting the power of denial before, during and after an abortion have also been reported by Torre-Bueno (1996). As a pro-choice advocate and long-time Planned Parenthood abortion counselor, her assertion is all the more compelling: "I believe passionately that I can be supportive of every woman's right to make her own pregnancy decisions, and still recognize the fact that her decision may cause her tremendous suffering. While many women do not have emotional or spiritual difficulty after an abortion, I know from twenty years of experience working with women before, during, and after abortions, that many women have more emotional and spiritual pain after abortion than the current research suggests."(1996:3)
In another clinical study, pro-choice psychotherapists De Puy and Dovitch (1997:13-14) reported that 10% of women experience "severe emotional trauma" following abortion. According to these clinicians/researchers: "Many women acknowledge a feeling of relief after their abortion, yet are understandably upset by facets of the experience that they had never anticipated. Many are distressed and unaware of the ways in which their choice has changed their lives and, sometimes, the lives of those around them." In a study of 80 women in the U.S., Barnard (1990) used standardized posttraumatic stress disorder (PTSD) instruments and found: 3-5 years following the abortion, l8% of the sample met the full diagnostic criteria for posttraumatic stress disorder (PTSD) and 46% displayed high stress reactions to their abortion. Her findings were not explained by religiosity as 68% reported that at the time of the abortion they had little to no religious involvement. Subsequently, similar findings were also reported by Hanley et al. (1992) in a comparison study of women distressed postabortion which also used standardized PTSD instruments and interviews. They found: "Women who were distressed following an abortion scored significantly higher than the non-distressed group on PTSD symptoms of intrusion and avoidance."
The investigators evaluated whether some women in outpatient mental health treatment with a presenting problem of postabortion distress met Diagnostic & Statistical Manual of Mental Disorders III Revised (DSM-III-R) criteria for the posttraumatic stress disorder (PTSD) categories of intrusion, avoidance, and hyperarousal. One hundred and five women were administered the SCID-PTSD module, the Impact of Event Scale, as well as the Social Support Questionnaire and the Interview for Recent Life Events, in addition to completing a semi-structured interview.
The researchers concluded: "the data from this study are suggestive that women can report abortion-related distress similar to classic PTSD symptoms of intrusion, avoidance and hyperarousal and that these symptoms can be present many years after the abortion."
Posttraumatic reexperiencing has also been documented in anniversary reactions. In a small study conducted by Franco et al. (1989:154), 30 out of 83 women reported experiencing anniversary reactions that included intense emotional psychosomatic pain. They noted: "Unresolved grief and preexisting dysphoria have been suggested as increasing the likelihood of anniversary reactions." Another recent study compared two groups of 25 women who elected abortion: those who identified themselves as distressed (D) and those who reported more neutral or non-distressing responses (ND). PTSD symptomatology was found in the distressed group: changes in male-female relationships, suppression of feelings/thoughts about the abortion, reactions to catalytic events that aroused thoughts/feelings about the abortion, trying to get pregnant again, becoming promiscuous, and avoiding reminders of babies. More than two out of three women in Group D were distinguished by reports of "suppression" or "denial" of parts of the abortion experience or negative emotional reactions to it. Additionally, women in the distressed group were more than twice as likely to report abortion trauma related symptoms on the Impact of Event Scale than those in the non-distressed group (Congleton and Calhoun 1993). In this same study, women who identified themselves as distressed postabortion indicated feeling: a sense of loss/emptiness (48%); shock/detachment (28%); anger toward partner/others (24%); depression (20%); loneliness, betrayal, loss of self-worth, and relief (16%); guilt and sorrow (12%); confusion (8%); fear of dying and suicidal thoughts (4%). Interestingly, in the group of women who elected abortion and did not believe they were distressed, 20% had symptoms of depression, an equivalent percentage experienced by the distressed group.
The authors concluded:
(1) for some women, abortion is a "critical event" which produces high levels of psychological distress;
(2) informed consent should ensure accurate information is conveyed about physical pain and possible negative and positive emotional reactions; and
(3) when dealing with depression among women, exploring reproductive history for unresolved emotional reactions to pregnancy termination may prove beneficial.
In a large scale prospective cohort study (N=13,261, of whom 6410 experienced a pregnancy termination) conducted in the United Kingdom, Gilchrist et al. (1995) found evidence of the traumagenic nature of abortion when examining relative risks of suicidal behavior in women who had previously terminated their pregnancy, and who had no prior history of psychiatric illness. A recent study in Finland of all deaths of women of childbearing age concluded: "Our data clearly show, however, that women who have experienced an abortion have an increased risk of suicide which should be taken into account in the prevention of such deaths" (Gissler, Hemminki and Lönnqvist 1996:8).
A recent Swedish study examined emotional distress (ranging from 1 month to 12 months follow-up) after abortion at a university hospital. Risk factors identified were: living alone, poor emotional support from family and friends, adverse postabortion change in relations with partner, underlying ambivalence or adverse attitude to abortion, and being actively religious. The researchers concluded: "Thus, 50-60% of women undergoing induced abortion experienced some measure of emotional distress, classified as severe in 30% of cases." (Soderberg, Janzon & Sjoberg, 1998:173)
In a study just published, Reardon & Ney (2000) examined the mental health risks of abortion relating to subsequent substance abuse. They found that women who aborted a first pregnancy were five times more likely to report subsequent substance abuse than women who carried to term, and they were four times more likely to report substance abuse compared to those who suffered a natural loss of their first pregnancy due to miscarriage, ectopic pregnancy or stillbirth.
Rue (2001) applied a trauma sensitive perspective to the understanding of how women coped with pregnancy losses, particularly induced abortion. He conducted a transnational retrospective descriptive study of 765 women in the United States and Russia. In this study, the average number of years since the abortion was 11 years for American women and 6 years for Russian women. Similar to preceding studies, the most common positive emotional outcome for women in both countries was relief with 11% of U.S. women attributing this positive feeling to their abortion compared to 8% in Russia. In the U.S. sample, 58% of women who aborted experienced 6-10 posttraumatic stress disorder symptoms following the abortion, compared to 12% in the Russian sample. Overall, the findings indicated that women in the U.S. sample were more likely to experience posttraumatic stress related symptoms following their abortion than Russian women. Using Pearlman's traumatic stress scale (TSI), Russian women who obtained an abortion had higher mean total TSI scores than U.S. women (276 vs. 260), indicating considerable disruption of cognitive schemas.
Cougle, Reardon & Coleman (2001) employed the National Longitudinal Survey of Youth (NLSY) a general purpose study which has interviewed 6283 women since 1979. They found using standardized assessments: "Compared to post-childbirth women, aborting women (n=735) were found to have significantly higher depression scores as measured an average of 10 years after their pregnancy outcome. Controlling for age, total family income, and locus of control scores prior to the first pregnancy event, post-abortive women were found to be 41% more likely than non-aborting women to score in the 'high risk' range for clinical depression. In response to a self-assessment question, aborting women were 73% more likely to complain of 'depression, excessive worry, or nervous trouble of any kind' an average of 17 years postabortion.'"
And finally, in the first record linkage study conducted in the U.S. on 173,279 low income women who had aborted, Reardon et al. (2001) found the following: "Compared to women who delivered, those who aborted had a significantly higher age adjusted risk of dying during the subsequent eight years from suicide (2.54), accidents (1.82), and all causes (1.62). Higher suicide rates were most pronounced in the first four years. Notably, the average annual suicide rates per 100,000 in our sample, 3.0 for delivering women and 7.8 for aborting women, bracketed the national average suicide rate of 5.2 for women ages 15-44." In addition to the above, there are a number of reviews of the literature on postabortion sequelae that are instructive (Speckhard & Rue, 1992; Rue, 1995; Speckard, 1997; Ney & Wickett, 1989; and Angelo, 1992).
References:
Angelo, J. (1992) Psychiatric sequelae of abortion: The many faces of Post-Abortion Grief. Linacre Quarterly, 59:2, 69-80.
Bagarozzi, D. (1993) Post traumatic stress disorders in women following abortion: Some considerations and implications for marital/couple therapy. International Journal of Family and Marriage 1:51-68.
Barnard, C. (1990) The Long Term Psychosocial Effects of Abortion. Institute for Pregnancy Loss. Stratham, New Hampshire.
Breslau, N., Davis, G., Andreski, P. & Peterson, E. (1991) Traumatic events & posttraumatic stress disorder in an urban population of young adults. Archives of General Psychiatry 48: 216-222.
Congleton, G. and Calhoun, L. (1993) Post-abortion perceptions: A comparison of self-identified distressed and non-distressed populations. International Journal of Social Psychiatry 39:255-265.
Conklin, M. and O'Connor, B. (1995) Beliefs about the fetus as a moderator of postabortion psychological well-being. Journal of Social Psychiatry 39: 76-81.
Cougle, J., Reardon, D. & P. Coleman (2001) Depression associated with abortion and childbirth: A long-term analysis of the National Longitudinal Survey of Youth. Presented at the 1st World Congress on Women's Mental Health, Berlin, Germany and published in Archives of Women's Mental Health, Vol. 3/4, Supplementum 2.
Foy, D., Osato, S., Houskamp, B. & Neuman, D. (1992) Etiology of posttraumatic stress disorder. In P. Saigh (ed.), Posttraumatic Stress Disorder (pp. 28-49). Boston: Allyn & Bacon.
Franco, K. et al. (1989) Anniversary reactions and due date responses following abortion. Psychotherapy and Psychosomatics 52:151-154.
Gilchrist, A., Hannaford, P., Frank, P., and Kay, C. (1995) Termination of pregnancy and psychiatric morbidity. Bri. Journ. of Psychiatry 167:243-248.
Gissler, M., Hemminki, E., and Lönnqvist, J. (1996) Suicides after pregnancy in Finland, 1987-94: Register linkage. Brit. Med. Journal 313:1-11.
Ney, P. & Wickett, A. (1989) Mental health and abortion: Review and analysis. Psychiatric Journal of the University of Ottawa, 14:4, 506-516.
Reardon, D. & Ney, P. (2000) Abortion and subsequent substance abuse. American Journal of Drug and Alcohol Abuse. 26:1, 61-75.
Reardon, et al. (2001) Suicide deaths associated with pregnancy outcome: A record linkage study of 173,279 low income American women. Presented at 1st World Congress on Women's Mental Health, Berlin Germany, published in Archives of Women's Mental Health, Vol. 3/4, Supplementum 2.
Rue, V. (1995) Post-Abortion Syndrome: A Variant of post-traumatic stress disorder. In P. Doherty (ed.) Post-Abortion Syndrome: Its Wide Ramifications. Dublin: Four Courts Press, 15-28.
Rue V. (2001) Posttraumatic stress symptoms following induced abortion: A comparison of U.S. & Russian Women. Presented at the 1st World Congress on Women's Mental Health, Berlin, Germany and published in Archives of Women's Mental Health, Vol. 3/4, Supplementum 2.
Soderberg, H., Janzon, L. & Sjoberg, N. (1998) Emotional distress following induced abortion. A study of its incidence and determinants among abortees in Malmo, Sweden. European Journal of Obstetrics & Gynecology, 79, 173-178
Speckhard, A. (1997) Traumatic death in pregnancy: The significance of meaning and attachment. In Figley, C., Bride, B. & Mazza, N. (Eds.) Death & Trauma: The Traumatology of Grieving. Washington, D.C.: Taylor & Francis, 67-100.
Speckhard, A. & Rue, V. (1992) Postabortion syndrome: An emerging public health concern. Journal of Social Issues, 48 95-120
Torre-Bueno, A. (1996) Peace after abortion. San Diego: Pimpernel Press.